Driven by the rapid development of urbanization and changing in a better lifestyle, outdoor LED display media has widely growing. Outdoor LED display is able to provide in-depth customer value and real effect to consumer. In order to meet the increasing needs of visual display performance of people, Surface Mounted Devices (SMD) LED displays with good color performance moving from indoor to outdoor application. Outdoor SMD LED display is becoming more and more popular especially in higher resolution.
Compared to traditional DIP outdoor LED displays, outdoor SMD LED displays have greater advantages as follows:
Wide viewing angle
The outdoor SMD LED display has a wide viewing angle not only in horizontal direction but also in vertical direction.
High brightness conformity
Generally, it is a difficult goal for DIP LED display to achieve high brightness conformity under different viewing angles. However, SMD technology can easily achieve high brightness conformity in any direction. This feature ensures true color performance.
High contrast ratio
SMD technology can improve the contrast ratio due to smaller LED sizes.
Automatic production
SMD LED display unique wire design can accomplish good combination of A/D board and light board. This feature is convenient for automatic production and saving cost.
It is obvious that SMD LED display is greater than traditional DIP LED display in color performance, energy-saving and widely viewing angle, etc. SMD LED display will be used into outdoor display inclusively and it will set a new standard in both indoor and outdoor display.
Unilumin Group, a global leading LED display manufacturer and solution provider with worldwide partners. Our outdoor SMD LED display, Usurface series, is setting up a new industry standard.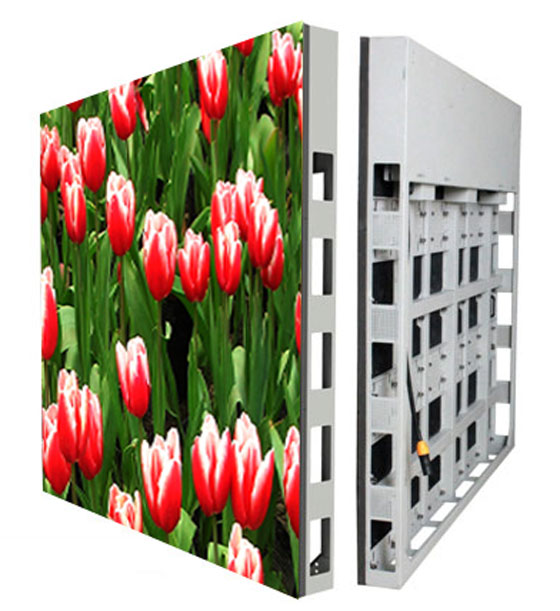 Usurface features and advantages including:
Slim and light cabinet design, easy for installation, saving installation and transportation costs for our custom ers.

Wide viewing angle of 140°(H)/ 120°(V) to reach more audience with much shorter watching distance.
High gray scale to show true color effect, better color uniformity and clear pictures thanks to Unilumin unique color calibration technology and high contrast ratio of 3000:1.
IP68 protection at module level, it is strong enough to against all-weather conditions.
Energy saving, consume less power and its fan-less design creates a quieter working condition for you.
What greatest advantages of Unilumin Usurface series LED display is its longest lifespan. It has unique cabinet design, high-quality of PCB and strict material selection; all of these prolong the lifespan.
Choosing Unilumin Usurface LED display is a right choice for you.