Unilumin debuts its ultra high resolution LED display UTV1.9 at Palme Middle East show 2014 which was held from April 15-17 in Dubai.
UTV1.9 is the highest density LED display at this show, thus it is also the most favorable booth there. "We receive more than 150 sales leads during the show, and several projects are confirmed with our partners." Says Vincent Ma, General Manager of Unilumin Group. "Unilumin has been dedicating to developing UTV series ultra high resolution LED display since early 2013, We already have done about 50 video wall projects for monitoring centers, TV studios, conference rooms using UTV1.6, UTV1.9 and UTV2.5.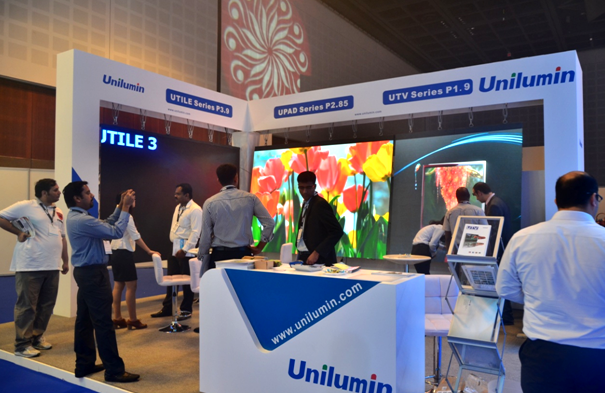 Besides, Unilumin also showed Upad2 and Utile3 rental LED product at the show, Upad2 is supposed to be the terminator of rental LED product as higher density product should be very difficult to repair onsite. Upad is Unilumin's classic rental product series which has been used for Madonna Concert Tour, Today Show program, London Olympic broadcast studio, etc.
About Unilumin
Unilumin (SZSE: 300232) is the most reliable and innovative LED manufacturer based in China, with subsidiary in USA and office in Holland, Hong Kong, etc. Unilumin owns a national LED laboratory and has been awarded with 162 patents in LED display design, utility and so on. Unilumin adhere to channel marketing strategy and value partners to be the key for long term success. Welcome to join in "UNI" partner program.